Additional Sales Information
Ecover techno floor cleaner is an ecological floor cleaner for professional use. The ecological pH neutral floor cleaner, which leaves no residue. It can eliminates slight or medium stains and leaves a fresh pine fragrance. It is suitable for all types of floors, like PVC, lino, stone, slate and ceramic floors. It can be applied using a cloth or mop. It dries out quickly, so no rinsing is required.
Ecover techno floor cleaner does not contain synthetic solvents, chlorine compounds, other halogen compounds, inorganic acids, or petroleum based detergents but just vegetable based detergents. This product have low aquatic toxicity and excellent biodegradability properties.
Ecover Floor Cleaner 5 ltr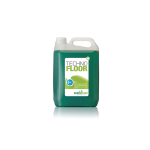 Stock Code
Availability
Price
Unit
Qty
EVTFC
7 working
days

£63.78

4