Additional Sales Information
EVERYONE hates cleaning their grill. Whether you're a caterer who has to prepare a variety of dishes at one time or some one just cooking for the family, you probably would like to use the grill more. But it's too much trouble.
The two-piece Jena EasyGrill is one of the most unique products introduced into the aluminium industry for many years.
It can be used in a grill pan or on a baking tray in the indoor grill. The EasyGrillis 325mm x 230mm and fits most grill pans as supplied by oven manufacturers.
There are holes at the bottom, between the ridges. So the fat is drawn into the bottom tray. And that tray has integrated spacers which ensure that even heavy meals don't stop it performing properly. But the best thing is that you throw it away when you're finished. It allows you to cook foods that you would NEVER put on a grill if you had to clean it afterwards.
2 Piece Aluminium Grill Pan Disposable Liner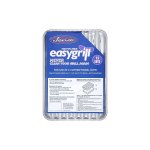 Stock Code
Availability
Price
Unit
Qty
EASYGRILL
5 working
days

£12.26

18