Additional Sales Information
Century Line A complete range of knives to meet whatever chefs, gourmets and cooking addicts expect from a knife and more. Century Line comes with a 25 year guarantee against manufacturing defects.
More specialised in its use, a carving knife is often a little longer than a chef's knife, but far narrower, and without the chef's knife's customary curve.
It is used primarily, for carving meat, particularly roasts. The shape of the straight blade makes it easier to create precise, thin slices of meat, even when slicing at the table.
A carving knife must be razor sharp to produce minimal friction on the meat, allowing you to cut easily and cleanly against the grain. Its uses can include poultry, roasts, hams, and other large cooked meats. (But always cooked).
This product is only available to people over the age of 18
Tramontina Century Carving Knife 8"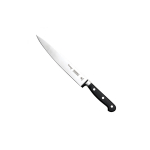 Stock Code
Availability
Price
Unit
Qty
KTRAMCK8
5 working
days

£26.95

Each