Additional Sales Information

Century Line A complete range of knives to meet whatever chefs, gourmets and cooking addicts expect from a knife and more. Century Line comes with a 25 year guarantee against manufacturing defects.
The Clever, common in Asian kitchens. Features a large, solid, rectangular blade that can generally be used with greater force, assisting in the cutting of harder materials without harming the blade.
They are ideal for opening lobsters and can also be used in preparation of hard vegetables and other foods, such as squash, where a thin slicing blade runs the risk of shattering.
This product is only available to people over the age of 18
Tramontina Century Cleaver 6"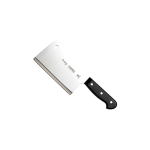 Stock Code
Availability
Price
Unit
Qty
KTRAMCL6
7 working
days

£37.00

Each