Additional Sales Information
Century Line A complete range of knives to meet whatever chefs, gourmets and cooking addicts expect from a knife and more. Century Line comes with a 25 year guarantee against manufacturing defects.
The fillet knife is also a boning knife. Their flexible blades enable this second skill.
They are essential when working with whole fish or poultry, or when trying to cleanly remove meat from the bone (such as tunnel-boning a leg of lamb). Its flexible, thin, curved blade helps you control the knife when removing bones, skin or cartilage, without damaging the meat.
Flexible blades are great for shaping, denuding, and seaming and are typically used by experienced butchers for boning roasts, whole hams, lamb legs, veal legs, and filleting fish.
Due the fact that it is 6" inches it can also be used for fruit or vegetables.
This product is only available to people over the age of 18
Tramontina Century Fillet Knife 6"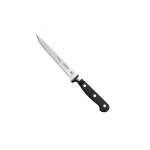 Stock Code
Availability
Price
Unit
Qty
KTRAMFK6
5 working
days

£26.50

Each