Additional Sales Information

Century Line A complete range of knives to meet whatever chefs, gourmets and cooking addicts expect from a knife and more. Century Line comes with a 25 year guarantee against manufacturing defects.
Ham Slicer is not just for ham, it can be used to slice many things. In some cases this knife is used for Breads as well.
The majority will be around 10" and can even be longer. The reason for the length is so that you can carve thin, even slices off large joints with ease. They will also be slightly flexible and have a rounded end, as they are not used to slice joints with bones in.


This product is only available to people over the age of 18
Tramontina Century Ham Slicer 10"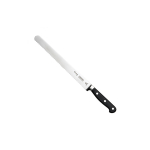 Stock Code
Availability
Price
Unit
Qty
KTRAMHS10
5 working
days

£31.50

Each