Additional Sales Information
Century Line A complete range of knives to meet whatever chefs, gourmets and cooking addicts expect from a knife and more. Century Line comes with a 25 year guarantee against manufacturing defects.
Paring knives slice easily through many fruits and vegetables, including tougher ones like sweet potatoes. They can also be used to peel back thin skins on foods like apples or potatoes.
The sharp edge of the paring knife can make quicker, cleaner cuts than some peelers. They also can be used to peel thick-skinned fruits like those found on citrus fruit.
The tip of the paring knife is just as sharp as the blade and can be used for fine close work that a larger knife might ruin. (included decoration garnishes).
This product is only available to people over the age of 18
Tramontina Century Paring Knife 3"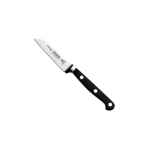 Stock Code
Availability
Price
Unit
Qty
KTRAMPK3
7 working
days

£16.00

Each