Additional Sales Information
Century Line A complete range of knives to meet whatever chefs, gourmets and cooking addicts expect from a knife and more. Century Line comes with a 25 year guarantee against manufacturing defects.
Santoku Knife, a popular variation to the chef's knife, often referred to as a 'Japanese chef's knife'. 'Santoku' means 'good at 3 things' – cutting, slicing and mincing. Often available with a Granton (dimpled) blade to prevent food sticking and to allow for more efficient slicing.
This knife has an ultra-sharp straight-edge blade which cuts smoothly. which is also wide for an easy transfer of ingredients with a low tip ideal for intricate cutting and boning.
Granton edge knives feature hollowed out sections running along both sides of the blade. When slicing meat, the grooves create a small air space between the product being cut and the knife to ease slicing. Granton edge knives are often preferred when slicing thin portions of poultry, roasts, or ham.


This product is only available to people over the age of 18
Tramontina Century Santoku Knife 7"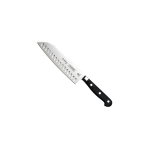 Stock Code
Availability
Price
Unit
Qty
KTRAMSAN7
5 working
days

£32.50

Each