Additional Sales Information

Century Line A complete range of knives to meet whatever chefs, gourmets and cooking addicts expect from a knife and more. Century Line comes with a 25 year guarantee against manufacturing defects.
Sashimi Knife is also known in the industry by YANAGI or YANAGIBA Knife. It is used to slice boneless fish fillets into sashimi and toppings for sushi.
The length and shape of the blade allows it to slice through an ingredient in long uninterrupted strokes, preserving the ingredient's freshness and integrity.
This product is only available to people over the age of 18
Tramontina Century Sashimi Knife 9"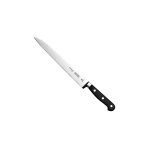 Stock Code
Availability
Price
Unit
Qty
KTRAMSK9
7 working
days

£34.25

Each