Additional Sales Information
Century Line A complete range of knives to meet whatever chefs, gourmets and cooking addicts expect from a knife and more. Century Line comes with a 25 year guarantee against manufacturing defects.
Tramontina Sharpening Steel is made with Carbon Steel but covered with Chrome. The Chrome is harder than the stainless steel used in the knives, as a sharping steel needs to be harder than the knive.
The Sharpening Steel has a grooved rod which facilitates the sharpening process. Smooth rods are just used to correct the blade/edge
This product is only available to people over the age of 18
Tramontina Century Sharpener 10"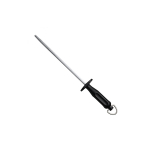 Stock Code
Availability
Price
Unit
Qty
KTRAMSRP10
5 working
days

£17.50

Each