Additional Sales Information
Century Line A complete range of knives to meet whatever chefs, gourmets and cooking addicts expect from a knife and more. Century Line comes with a 25 year guarantee against manufacturing defects.
Utility Knife is a kitchen knife that is midway in size between a Chef's knife and a Paring knife, also known as "every day knife", its uses are from slicing or coring fruits and vegetables to trimming excess fat.
For the Hospitality, it is a common companion to the chef's Knife. It is in fact a smaller version of the chef's knife but for finer work, making shallow cuts or incisions (such as scoring calamari, or creating cavities in a roast for garlic and herbs, and for any cutting where greater control over a small area is required)
The Utility knife is also good for cutting larger vegetables and sandwich meats that are not large enough for a chef's knife.
This product is only available to people over the age of 18
Tramontina Century Utility Knife 6"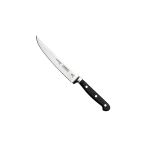 Stock Code
Availability
Price
Unit
Qty
KTRAMUK6
5 working
days

£21.23

Each